G.K. Chesterton once said that Charles Dickens was the poet of the fog. Nowhere is it more evident than in Our Mutual Friend, a massive, rambling tale of money, and murder amid the murky mists of the Thames.
It's about honesty, and true love. But also, it's mostly about stalkers (there are seven). And not only dudes obsessed with beautiful women, but greedy rogues tracking down any embarrassing secrets in the lives of rich public figures, or jealous rivals shadowing their opponents.
Dickens was already fascinated by the idea that we cannot really know what goes on inside the hearts of our fellow men, and
Our Mutual Friend
further complicates this theme by incorporating the devious facades of high society and its occupants.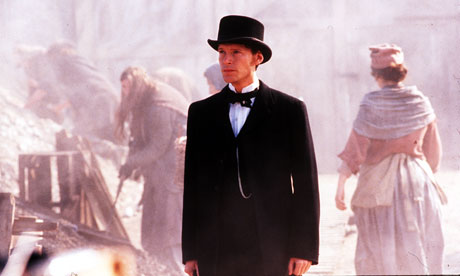 From Alfred and Sophronia Lammle (Anthony Calf and Doon Mackichan), a pair of sycophantic social climbers, to Silas Wegg (Kenneth Cranham), one-legged man of letters, no one is what they seem.
The story begins on the Thames itself, with a pair of boaters dredging the river for dead bodies. As a colleague soon comments, the two are in luck—a corpse bobs in the water alongside the craft, attached to the stern by a rope. It's a simple, macabre scene, but one that sets in motion every single action after it.
For one thing, it leads to Bella Wilfer (Anna Friel), daughter of a middle-class clerk, being taken under the wing of a kindly, newly wealthy couple named the Boffins (Peter Vaughan and Pam Ferris). Bella is one of the few characters who believes in honesty, and she's honest about her chief motivation: money. She wants money, and wants lots of it.
The Boffins are accompanied by a mysterious, sinister secretary named Rokesmith (Steven Mackintosh) who has a fascination with Bella. Even more menacing, he has some sort of connection to the body in the river, which has been revealed to have been murdered.
The case is being investigated by a pair of layabout lawyers, the perfectly casted Mortimer Lightwood (Dominic Maugham) and Eugene Wrayburn (Paul McGann.) Based, no doubt, on the lawyers Dickens worked for in his youth, the pair are a slightly more mature version of A Tale of Two Cities' comic duo Stryver and Carton.

Through the investigation, Wrayburn becomes involved with one of the boaters, a beautiful woman (Keeley Hawes) named Lizzie Hexam (a case could also be made that Wrayburn and Lizzie are a more realistic version of Two Cities' Carton and Lucie). The magnificent David Morrissey as Bradley Headstone provides a third member of the love triangle.
It may seem like I've elaborated most of the story, but it's really just a snapshot. As an adaptation, it's near-perfect, cutting only the most superfluous subplots (Fascination Fledgeby, for instance).
The minor characters almost steal the show, providing a coterie of wonderfully mad Dickensian eccentrics (it's hard to pick, but I think my favorite is Timothy Spall's lovelorn Mr. Venus, closely followed by David Bradley's hawkish Rogue Riderhood.)
But the main characters win the day.
Our Mutual Friend
contains several of the most beautiful relationships I've seen in period drama, thanks chiefly to the talent and charm of the principle actors. The sublimely beautiful Bella Wilfer is a splendid mix of petti
ness and elfin charm. Lizzie Hexam is a bit too idealized and posh, but I'm sure old man Dickens would approve. Rokesmith combines mystery and ambiguity with an appealingly quiet dignity. Eugene Wrayburn, on the other hand, is wildly
self-destructive and irresponsible, barely pardoned by his waggish charm. Perhaps the best performance of all is Mr. Headstone's, the passionate schoolmaster crippled by insecurity and pride.
The complexities of the plot are also fascinating to negotiate...romance, drama, and

obsession

thread their way through a ridiculously tangled web of inheritance, blackmail, and murder.
Also, Bella Wilfer's dresses are about the most gorgeous thing ever.
There are few miniseries that I can claim as Practically Perfect In Every Way – but this sumptuous 6-hour TV film of Dickens's last complete book would have to be one of them. Perfect cast, perfect settings, perfect music...the only flaws I could find would be by nitpicking the twists in the story, but that can be laid squarely at Mr. Dickens's door.
If you're a period drama fan, this, my favorite Dickens adaptation of all time, isn't to be missed.
4.5/5 stars
Hannah Long