[As a bit of an aid to refresh my memory when "Best of" lists come around next January, here's my pick of the month.]
Movies:
January's decision is tough, but the only 5-star review I gave was to
Life is Beautiful
, a funny, earnest Italian film set during WWII.
My review.
As for February, it's a toss-up. I think entertainment wins the day (because yes, I am that shallow), so I choose
Princess Mononoke
over
Lawrence of Arabia
. The film is practically my first experience of Hiyao Miyazaki, and, though flawed, it's pretty incredible.
My review.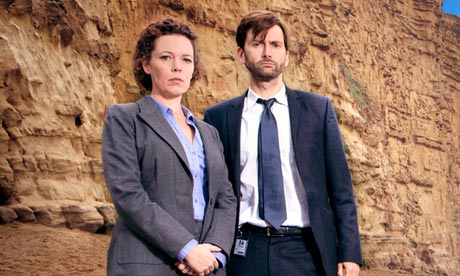 This is pretty much a no-brainer - to January I happily give the gold to
Broadchurch
, an exquisitely made murder drama about the death of a young boy in a seaside town.
My review.
As for February, I'm able to name
Sherlock
, since the last episode aired on the 3rd. (But if I did put it in January, I'd have to give
Broadchurch
the edge, by a bit.) I didn't agree with all the decisions made in
Sherlock
's third season, but still, it's good to be back. My reviews:
The Empty Hearse
,
The Sign of Three
,
His Last Vow.