My review of last week's episode
At the moment, I'm sitting here, wracking my brains to remember whether anything actually happened in this episode. Mostly stalling. The trial has never been more interminable than here, as people yell at each other, and Olivia Colman cries more, and the verdict is continually stalled. Drama. Drama. Drama. *snore*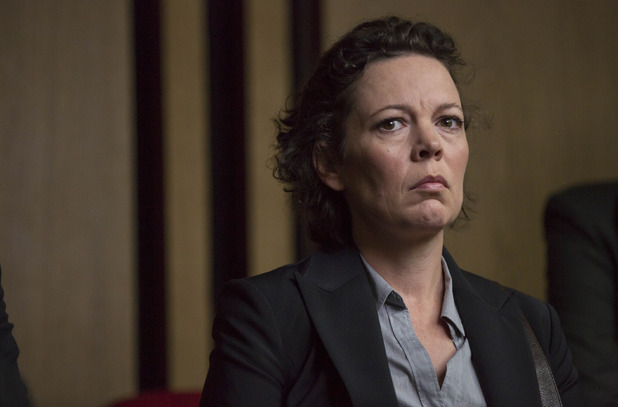 Alec Hardy is off frolicking about the hills, waxing eloquent on his new lease on life. The pacemaker seems to have gotten his brain working a bit, so he lets Lee know that Claire was pregnant - and sits back to see what happens. Lee uses some enhanced interrogation techniques to find out that Claire had an abortion - and that Alec came along for support (so, no affair then - presumably). This is apparently the only way to get anyone to tell the truth in Broadchurch. No, wait - there's one other way - give them five minutes with Paul Coates and a little self-help Gospel and they'll rediscover their consciences and come clean.
Perhaps that would work for Mark Latimer, who needs to get right with Jesus anyway. Last week he chose to affirm rather than swear. Repent, Latimer! At the moment, he's being passive aggressive and immature again, while Beth fights for a basis of honesty between them. Possibly Ellie should give him a talking to - she's being pretty tough on everybody right now - from Tom to Claire.
Alec and Ellie finally manage to track down Gary Thorp (of Thorp Agri Services). Turns out he was Lisa's boyfriend - at least for a while. He's pretty suspicious-looking, which means I consider him innocent. Anyway, this would break
rule number one of the Rules of Fair Play
.
There were a few more teases through flashbacks (Lee remembers the furnace, for instance), but all in all, we discover remarkably little, except that Jocelyn is in love with Maggie and has been for years and years. This twist was oddly predictable and unpredictable. I could easily see it happening, but it felt out of place. Despite the lovely sky, this lesbian picnic feels completely random - another pathetic attempt to make us care about unimportant characters (well, I already cared about Maggie), and possibly prove that despite season one's pro-life, pro-traditional family moments,
Broadchurch
can still be progressive.
The final moment in the episode comes as Claire gives Alec the pendant (thanks, self-help priest!), and the cast (some nice ensemble shots - reminiscent of Mark's walk through town in season 1) await the verdict on Joe's case.
So, predictions:
Joe is convicted. Chris Chibnall's done some mighty weird things in this show, but he must have known letting Joe off is a magnificently stupid idea.
Kate is the Sandbrook killer. Duh. Duh. DUH. Second guess: they all did it. On a train. In the snow. But I pretty much don't care anymore.
My review of the finale
Hannah Long