Phew. Excuse me for a minute while I let my brain settle down. This movie is full of explosions, but it is also a thinky movie. This is a very thinky movie.
In fact, it tends to think out loud. New villain Ultron (voiced by James Spader) spends
so much time monologuing
that it's a wonder it takes the Avengers so long to defeat him (at least fifteen minutes longer than it should have.)
Ultron is the brainchild of Tony Stark (Robert Downey Jr.), genius, playboy, billionaire, sudden techno-philanthropist-Utopian. Tony's been spending his free time creating an artificial intelligence which will establish lasting peace. Oddly enough, he's keeping the plan to himself, resisting the urge to brag. When he does tell Bruce Banner (Mark Ruffalo), he stresses the need to conceal "Ultron" from the other Avengers. They'd merely argue about it and by then it would be too late to succeed.
Ultron is the end-game, he explains. This program will put the Avengers out of a job, and create Utopian harmony. Inevitably, something goes wrong, and in trying to create a perfect world, Tony creates the very thing which will destroy it. Ultron escapes into the internet, respawning wherever need be, to enforce his new order and attempt to exterminate the Avengers.
The film opens with an exciting action sequence in which all the Avengers are reintroduced. Tony manages to capture Loki's scepter from Hydra/S.H.I.E.L.D., but not before a new character, the Scarlet Witch (Elizabeth Olsen), manages to see Tony's greatest fear. She's a new character, one of several, a mind-reader who is accompanied by her speedster twin brother, Quicksilver (Aaron Taylor-Johnson). When the Scarlet Witch reaches into Tony's mind, she finds that he is afraid that Ultron will get out of his control. He sees the Avengers dead, lying in the ruins of a shattered universe.
One person conspicuously absent from this nightmare is Pepper Potts, previously the core of Tony's life.
Avengers
1's central theme was the contrast between Tony's brand of self-centered pragmatism and the old-fashioned idealism of Captain America (Chris Evans). There, Tony completed his evolution as a character, and in
Age of Ultron
leaves the emotional arcs to the rest of the team. The same goes for Cap and Thor (Chris Hemsworth), and the heft of the story-telling goes to Natasha Romanoff (Scarlett Johansson), Bruce Banner (Mark Ruffalo), and Clint Barton (Jeremy Renner).
Surprisingly, while in the last film Captain America was the representative of the American way, it is Barton who's now the defender of the Heartland. Indeed, he is both the heart and moral center of the film. As well as being the only Avenger who has a life outside fighting aliens, and a normal life to boot.
For Natasha, losing that normality is one of her greatest regrets. In
Avengers
1, Barton and Natasha were very close, and her relationship with the Hulk merely platonic. Here it is exactly the opposite, as she find common ground with similarly-isolated Bruce Banner. The shift doesn't work. Let's face it, the only chemistry Banner offers involves the periodic table, and Scarlett Johansson is hitting the emotional cues, but
without any real conviction
.
She has far more rapport with easy-going Jeremy Renner, but he's now doing new things. While I don't totally buy his back-story, Barton is right at home as Mr. Small Town U.S.A., and one of my favorite moments in the film is a brief conversation he has with the Scarlet Witch about courage.
These are hardly the only things that are going on, but they're the ones given the most time to breathe. After Tony captures Loki's scepter, our heroes return to Avengers (née Stark) Tower where they celebrate their victory. For those of us who have been following the extended Marvel universe, it's a bit of a puzzling scene. We know that elsewhere (namely
Captain America: The Winter Soldier
land) S.H.I.E.L.D. has been overthrown by a coup, Hydra now controls the government, and Nick Fury is on the run. Meanwhile, in
Agents of S.H.I.E.L.D.
land, the faithful few fight Hydra (and each other) from the shadows.
Age of Ultron
begins with a big Avenger battle, then shows them partying, happily, in the center of tranquil civilization. It's true that Nick Fury and the feds are mysteriously absent, but our heroes aren't fazed by the fact that they're completely on their own against the world. Even when they're on the run they take a leisurely vacation on a farm, and this lack of impending danger is a major problem.
Part of that problem is the villain. Ultron is so verbose that he becomes ridiculous. He's
little more than a plot device
, doesn't have any meaningful relationships, and is destroyed so many times that when he
is
finally killed for good, it's anti-climactic. He's no Loki. Beyond that, the cast is simply so immense, and Whedon is so focused on giving each character a cameo, that he doesn't have enough time to build suspense.
Lastly, the Avengers never face a real set-back. Hulk destroys a city? The worst consequence is that Banner mopes a bit more than usual. The losses incurred take place where we haven't had time to invest much emotion.
But while the destruction factor is through the roof, there is a definite (very welcome) focus on saving human beings. It's true there aren't any specific people being rescued (like the waitress or cop in
Avengers
1), but the goal during the climax is obviously to save lives, and one scene near the end, involving a trapped child, drives this home more than ever.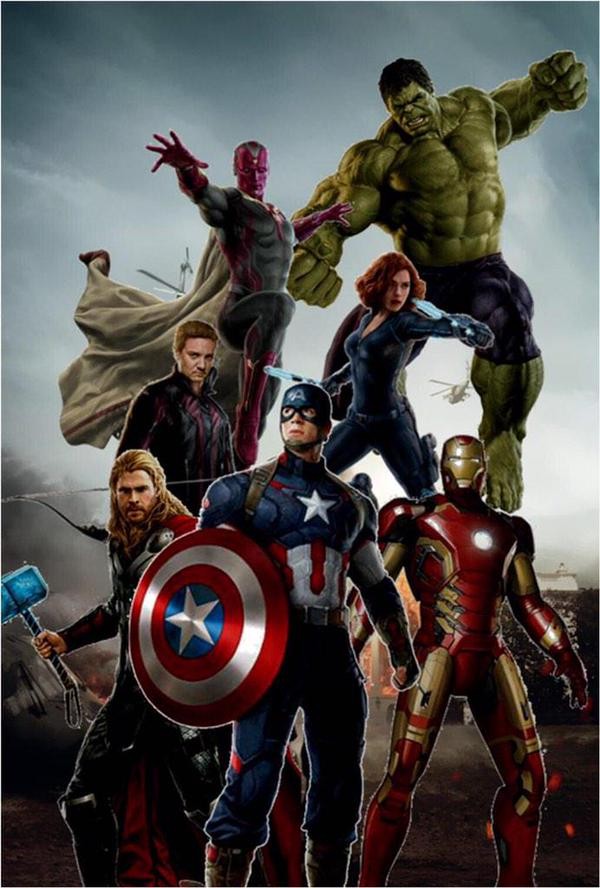 Like I said earlier, while this isn't the world's most thoughtful movie, it's certainly thinky. Tony's utopianism is key. The world he wishes to create is one safe from the threat of war. "Peace for our time," he says. Recognize
the phrase
? It didn't turn out very well the first time it was said. Not only are many of the guests at the Avengers' party WWII vets (Steve's friends, one assumes), but at one point they visit an arms dealer (Andy Serkis) who lives on a boat christened
Churchill
. At first, I searched for the political resonance here. There's hardly a metaphor about appeasement, because there's no enemy to appease. Tony wants to be prepared. He's more like Churchill than Chamberlain. The film doesn't decide whether that's good or bad, because while his plans go disastrously wrong at first, there are glimpses of a more redemptive result of heavily militarized government ("This is what S.H.I.E.L.D. is supposed to be") or even of his invention (the Vision).
On the other hand, Ultron takes Tony's idea of total peace to an extreme end. Like
Noah
, he concludes that the only way to cleanse Earth is to destroy humanity, laying this out in a jumble of biblical metaphor and evolutionary Nietzscheanism. The New Jerusalem is populated by those who can survive the apocalypse, those who evolve to new heights—supermen. It would have been great if he had provided a concrete example of this, if, for instance, he personally killed a major non-powered character who he perceives to be one of the bungled and the botched (the story was certainly foreshadowing that this would happen.) As it was, his typical Villainous Nietzsche Ranting is as nebulous
as his ridiculously complicated plan
.
On the other side, the Avengers stand for humanity, in all its frailty. Mankind's figurehead, in the end, is a hero who affirms that there is "grace in their failings" and that their beauty does not stem from their ability to survive (remember
Batman Begins
? "Gotham isn't beyond saving.") Admittedly, he is a god-like super-being himself. Tony Stark may have created a monster, he even essentially created the killer twins (who conveniently overlook this vendetta, later on), but in the end, his meddling pays off.
Or does it? Is The Vision (played with elegance by Paul Bettany) really created by Tony? He is assembled by Ultron, tinkered with by Tony and Banner, and revitalized by Thor, who was himself inspired by an otherworldly vision. Could there be another force at work here? What provides this grace in their failings? I'm probably reading into this way too much, but when the Vision tells Tony that he is was not what Tony intended him to be, it brings to mind the ending of
Bridehead Revisited
:
Something quite remote from anything the builders intended has come out of their work, and out of the fierce little human tragedy in which I played; something none of us thought about at the time: a small red flame...
Now yes, I included that because I want to be the only review of Age of Ultron that references Brideshead Revisited (or even, "Behind that there was something else at work, beyond any design of the Ringmaker."), but there's a definite idea here that somehow things happen outside our control. Whedon probably doesn't mean overarching destiny, but rather that the Vision is a success because he is the product of a team effort. Tony's earlier machinations came from him alone, and went a little bit world-domination-crazy. Democratizing this power? A good idea. Still, a bit more sinister are the Vision's blatant messianic parallels ("I am" - really? Not very subtle.)


Age of Ultron
is what Whedon's
Serenity
was to
Firefly
, a darker, less campy, more allegorical sequel with a Pharisaic villain.
Ultron
bites off more than it can chew, has far, far too many characters, and a plot which only barely makes sense in hindsight. It's pounding and pretentious, lasts too long, and kills the wrong people. But even with all of these flaws, it does manage to be a lot of fun. Whedon's trademark wit is at work here, leavening the darkness. The dialogue spins along with sparkle, and somehow,
somehow
, one can reasonably keep up with all the characters. The end of the film sees a new arrangement of heroes. Does it make sense? Not entirely, but that's not really what we're here for. And as a huge, hilarious, ridiculous popcorn movie, it's not half bad.
3.5/5 stars
Hannah Long