Top 15 Movies/Top 5 TV Shows
of

2014
Last year's list
Yes, I know I'm late. Since it was over 2014 that I became a real film geek, I managed to see tons of terrific movies - but only a few stuck out as solid, all-time favorites. I mention them first.
First on that list would be
Ordet
, a stark Danish film from 1955. Set in the barren wastes of Denmark, the story centers around a single dysfunctional family. The father is stern and controlling - a reality reflected in his harsh line on theology. His main disappointment in life was that his son, Johannes, did not grow to become a great spiritual reformer. Instead, he lost his mind completely, and spends his time uttering mad prophecies. Or are they so mad?
My review.
I'm a sucker for movies that involve politics, religion, period drama and British stuff.
A Man for All Seasons
has all of these, which means I was a goner from ten minutes in. It's the story of Thomas More, who was a Christian humanist, politician, and adviser to Henry VIII. More comes to oppose his king over the matter of the king's divorce. Lacking an heir, Henry wants to divorce Catherine and marry his mistress, Ann Boleyn. Given the fact that the pope refuses to sanction the move, Henry ultimately sets in motion events which lead to the English Reformation. Only one man (and several others which the movie did not see fit to mention - dramatic purposes, y'know) stood in his way: Thomas More.
Babette's Feast
is a movie which one really can't review without cheesy food metaphors. Thus, this movie is like comfort food. I've watched it twice, and each time left with a glow inside myself that I wanted to impart to others. It's a film about giving which makes the audience want to give of themselves. This is the Gospel, folks.
Written review
-
podcast review
.
12 Years a Slave
is a movie I didn't expect to like. It's fairly obvious that the purpose of the movie is to reveal the grinding, horrific conditions of slavery. With the constant chatter about racism, I thought to myself: why do I need to hear this again? What can another film bring to this conversation? But here's something to think about,
credit of Steven Greydanus
: "What if I were to tell you that until now there has never been a major historical motion picture about the slave experience in America? Could that possibly be true?" It is true. But besides this, it's not only an Important movie, but a good movie. The direction, cinematography, acting - all are terrific. It's a movie about great despair, but there is also hope.
My review
.
Speaking of movies I didn't expect to like, here's
A Room With a View.
Featuring a very young Helena Bonham Carter, the story traces her journey as she escapes the stodgy mores of Edwardian society. Sound cliched? A bit, but it's saved by some wonderful performances from the likes of Maggie Smith, Judi Dench, and Denholm Elliot, a marvelous operatic soundtrack, gorgeous cinematography, and a good-natured humor which softens its satire.
Watch it here.
Since no list is complete without an R-rated 80s buddy comedy, here's my contribution.
Midnight Run
was Robert De Niro's first foray into comedy, and he proved himself hilarious. Even funnier, however, is his co-star, the masterfully deadpan Charles Grodin.
My review.
The Godfather
parts I and II really feels like one seamless movie, so that's how I'll treat it. Everything you've heard is true. More than just a revenge flick, the film deeply explores the consequences of a violent life. Is it glamorized? Probably somewhat - but only in a Shakespearean kinda way.
Livetweet review
-
podcast
reviews
.
Into Great Silence
is set in a silent monastery - and for much of its nearly three hour length, it, too, is silent. But it is not a boring silence. The viewer begins to slip into the routine of the place, beginning to recognize faces and places. Above all things, once the world is silent, one can see love clearly. An amazing film.
Casablanca
is another movie that is as good as its supposed to be. Perfectly self-contained, it creates a miniature world filled with fascinating minor characters - and drops into it a huge, dramatic romantic plot. With spies and Nazis.
I've already enjoyed both of the other Nolan Batman flicks, but I'd never managed to get all the way through their magnum opus,
The Dark Knight.
It's difficult to pin down. On a sheer visceral level, it definitely works - and it asks lots of interesting questions. Heath Ledger's Joker dominates the story, but is more than matched by the charismatic Harvey Dent. In the end, Christian Bale's Batman becomes overshadowed by the Joker and his nihilistic musings.
Ernest and Celestine
is a sweet French animated feature. Its visual palette is simple but incredibly effective - and there were several moments near the end that took my breath away. Great kid's movie about the adventures of a mouse and a bear.
Ikiru
is a bit like
It's a Wonderful Life
set in 1950s Japan. Kanji Watanabe is a bureaucrat in a huge, immobile government institution. Nothing is ever done. He merely stamps things and pushes paperwork. But when he finds out he has stomach cancer, he is challenged to discover what his life really
does
mean - and what it
could
.
Ratatouille
, for a children's film, manages to get into pretty deep waters - examining all sorts of questions about art, creation, criticism, and vocation. The central plot of an animal attempting to excel outside his usual field of expertise recalls another great animal movie,
Babe.
My review.
Raising Arizona
was one of the Coen Brothers' early offerings, and possibly the only movie that stars Nicholas Cage as some character besides Nicholas Cage. In this case, he's H.I. McDunnough, a career convenience store robber who maintains his fine-tuned sense of morality by only using an unloaded gun. His situation is made more complex when he falls in love with the officer who always takes his mug-shot: Edwina. H.I. and Ed marry, but no children are forthcoming, which pushes them to resort to criminal measures.
There were several actors I discovered this year who inspired me to do a bit of
movie stalking
. Chief of these is the great Alec Guinness, whose career spanned everything from comedy to drama to, famously, space opera. My favorite of his funny movies was
The Lavender Hill Mob
, in which he plays a lisping bank clerk turned gangster. Part of a spate of dark, hilarious movies known as Ealing Comedies, I liked this one just a bit better than the other marvelous films starring Guinness:
The Ladykillers
and
Kind Hearts and Coronets
. Note a cameo from a very young Audrey Hepburn.
TV
I've gushed so much about
Broadchurch
this year that I really don't need to recommend it again. But here it is, anyway. A marvelous examination of grief, tabloid culture, hope, and forgiveness. Skip the second season.
My review.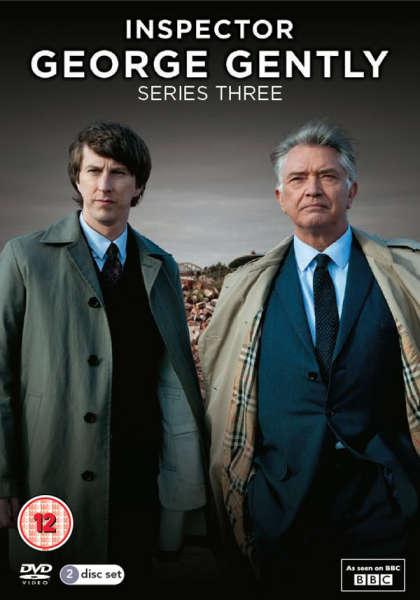 I've been a big Martin Shaw fan ever since I saw him as the splendid kinda-sympathetic villain in
The Scarlet Pimpernel -
and given my love for British detectives, I was bound to love this series which features the charming Shaw as the titular character:
Inspector George Gently.
Moving away from crime capitals to Britain's rugged north, Gently teams up with his smart-aleck sidekick, John Bacchus (a terrific Lee Ingleby), to catch ruthless criminals.
More.
Michael Gambon is best known to the world as Albus Dumbledore, Harry Potter's mild-mannered mentor, but in the nineties he was terrific as French detective Jules Maigret. Transporting a British cast to Paris, the series managed to nicely balance a marvelous local atmosphere with some terrific character acting.
Maigret
feels a bit like Columbo in France.
More.
Life on Mars
is one of the more original detective shows I've encountered in my (
extensive
) experience. D.I. Sam Tyler is in pursuit of a suspect when he's struck by a car. The impact not only knocks him over, but knocks him back 33 years in time, and back down to detective sergeant. His boss in 1973 is burly, crude Gene Hunt, a marvel of a character. The series has some missteps and unnecessary nudity, but is, overall, very enjoyable.
More.
Agatha Christie's Poirot
has been a staple of detective TV for a quarter of a century. It stands head and shoulders above all the others. I can say nothing more than
Adieu, mon cher ami.
Episode 1 - Elephants Can Remember
Episode 2 - The Big Four
Episode 3 - Dead Man's Folly
Episode 4 - Labours of Hercules
Episode 5 - Curtain: Poirot's Last Case
Next year's list.
Hannah Long